Why Belladonna
(Wilcza Jagoda)?
---
Deadly Nightshade, Atropa belladonna (Beautiful Woman) is a plant with two faces. It has both poisonous and healing properties. It has been inspiring us for a long time, showing the connection of the human, plants, and animals world. It reminds us that everything we surround ourselves with can be used by us in a way that is beneficial to us or not, depending on our choice and the intention we cultivate in ourselves.
Wilcza Jagoda shows the two sides of the coin, it shows Yin & Yang, balance, cyclicality, wisdom, deep connection with the world of plants and yourself through contact with nature. Additionally, the name contains 'Jagoda' (one fairy out of us two), as a reminder of the uniqueness of being a woman.
How do we feel it...
Nature speaks to us, invites us to dance together and by accepting the invitation, we also ask you to join us...
Who are we?
---
Wiśnicz Foothills Pogorze Wisnickie), an old wooden hut hidden in the woods, surrounded by hills, small rivers, fields, meadows, nettles, birds' singing and squirrels' patter.
And WE in it. Jagoda, Grzegorz, Lulu, Shiru and ... cats.
The surroundings where we spend each day encourage us to share with you what we think is the most beautiful. We collect herbs and macerate them, we walk around enjoying the peace and silence, naturalness, space, the wind in our hair, Mother Earth under bare feet, and drops of morning dew on the skin.
Do you remember what it is like to live in harmony with the Universe, among plants and animals, walking barefoot on the sand? Do you remember what it is like to admire the sunrise and sunset, to tune in to the Moon phases and the cyclicality, that manifests itself on Earth? Do you remember how your body can feel when you give up junk food, restore conscious body care, start to think positively?
01
For us, the awakening resulted, among other things, in the creation of Wilcza Jagoda - a Beautiful Woman, with a confident, brave and conscious Beautiful Man by her side.
02
In the beginning, Wilcza Jagoda was a state of mind, nothing tangible and real, but IT IS today. It is the creation for all of us. We collect inspiration, peace and health while collecting herbs, and we share them with you.
03
Wilcza Jagoda is not only Us, but it is also You and together we create something very special. Thank you for being with us!
WHAT DO WE
CREATE FOR YOU?
Polish, hand-made natural cosmetics, candles, and other products for conscious care of the body and mind. The process of their creation begins in us with an intention, which with time takes on a colour, scent and then, thanks to the work of our hands, also the shape. We respect life in its all manifestations, so everything that we offer is free from animal origin raw materials and any artificial, synthetic substances.
We use only high-quality ingredients from carefully selected sources. Our adventure with natural cosmetics started with soaps and a bit later, soy candles came in place too. Making them for ourselves at first, we made sure that we were creating skin-friendly, safe, nutritious and aromatherapeutic products.
Every step of the creation process, including pouring candles and scent plates, collecting and macerating herbs, cooking soaps, packing orders, is accompanied by love, humility, and respect, making us feel that we are doing something good and valuable for Nature. /p>
Wilcza Jagoda is not only us, it's you as well. That is why we are delighted to know that the products you buy make you happy and meet your needs. We and our loved ones are always the first users of all our cosmetics.
"He was a local Government Official who keeps his dreams and his guitar in a tightly closed case.
She was an Elementary School teacher stuffing unfulfilled dreams into jars of dried herbs.
Both - unsure of themselves, lost and experienced by life. These very experiences, the people they met, the situations that happened, and their health adversities initiated an internal metamorphosis. Thanks to this they got to know each other and created something unique together. Together, they write a beautiful story proving that random encounters are the least accidental in our lives."
"Today…
They are already free, colourful, breathing deeply, anchored in their artistic reality, created by voices of soul and heart.
He is a musician, artist, founder of three music projects (Grze Kotnik, Moribunda, Doontki), and the Foundation Institute for Human Development. A craftsman who spends many hours in his workshop looking for the perfect beard fragrance.
She is head over heels in love with Nature, a friend of plants, animals, and people. Therapist and reflexologist with a holistic view of everything in and around her.
In addition to beautiful events, they also had less enjoyable experiences. Both have struggled for years with skin problems that resulted from their previous health histories. Determination and the desire to recover has triggered a series of positive changes. The revolution in diet, a deep analysis of the symptoms and finding the root cause of the problems allowed them to gain a wide knowledge about natural skincare. Today, they share this knowledge and skills with others. They manufacture plant-based cosmetics for delicate and needy skins, for all those who are on their way to naturalness. "
A friend of the house
ziemianka
---
Working with conscious people enriches, inspires, rejoices, and broadens our horizons. That is why we have a good time with Anka Ziemianka, building a team that brings diversity and benefits for our recipients. Each of us is different, even very much different. However, we all are united by something very important - respect for Mother Nature, love for people, animals, and plants, as well as simple solutions, creativity, joy, and passion.
Ziemianka is passionate about simple solutions, carnations, beautiful fabrics, and her sewing machine. She collects coloured paper. She loves people, brave women, and fragrant babies. If it hadn't been for her skin to itch after getting into the crops, she would have spent all summer lying in the rye ears in the field.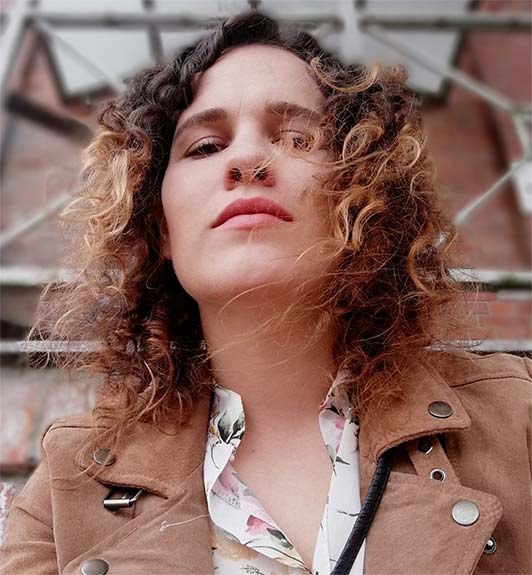 She tends to do many things at once, gets bored quickly, and flashes in the pan. Only a sewing machine has never lost her interest. With her love for sewing and the natural environment, she began to create a series of cosmetic and household articles that save the Earth's natural resources, protect it and us from the harmful effects of chemicals and the production of excess waste. She dreams that eventually people will become responsible for their actions and understand that together we can do more.
We would like to invite you to our Green World, where every breath is inspired by a forest, meadow or field... To the world where presence, awareness, health, and love – especially for ourselves, are the most important.
We believe that everything begins in ourselves!